Antenna Farm Capable of
Spraying
530,000+ Watts


of Effective Radiated Power — 24/7/365 . . .
16 Macro Cell Tower Antennas that are
just
75-100 feet from homes!
We are holding weekly Go-To-Meeting video conferences on Wed. evenings from 7:00 pm to 7:30 pm on this project for those new to the topic. Sign up by completing the form, below, and we will email you the access credentials. We hope to see you there!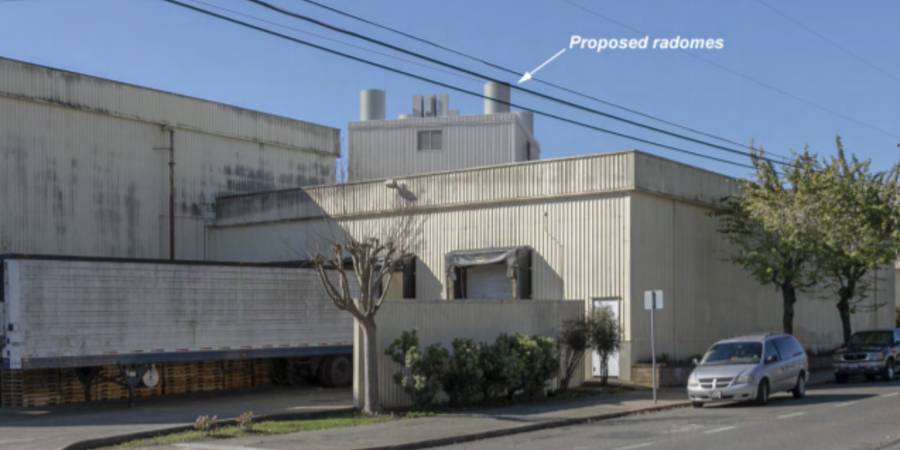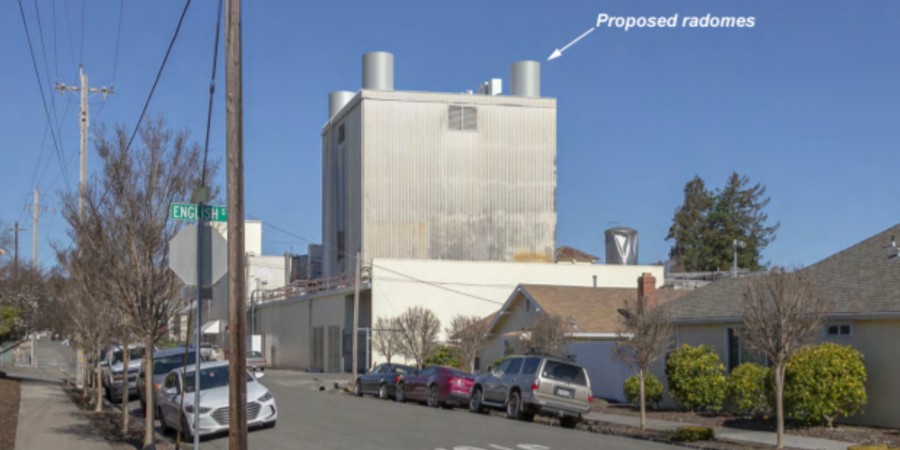 ---
---
Sign This Petition

— Stop the Wireless Antenna Farm at the Petaluma Creamery
The proposed installation, 16 antennas capable of outputting more than 530,000 watts of Effective Radiated Power (ERP), atop the Petaluma Creamery, will have negative impacts for all residents. There are tens of thousands of peer-reviewed scientific studies, established science, that concludes there are significant negative health consequences from pulsed, data-modulated, Radio-frequency Electromagnetic Microwave Radiation (RF-EMR) exposures to humans, animals, insects and plants. There is evidence of many cancer clusters that have developed after cell towers and small cell facilities have been implemented near or atop places where people live and work. See the results of ten years of RF-EMR exposure from this cell tower in Sebastopol, CA: → https://scientists4wiredtech.com/sebastopol/#death.

Petaluma residents are requesting that this Wireless Telecommunications Facility (WTF) not be installed in our residential neighborhood. We demand that Petaluma only approve new WTFs that are needed to close a proven significant gap in telecommunications coverage, as proven by an Industry-standard, Comprehensive RF and Microwave Signal Strength (CRAM-SS) Need Test for carrier-specific telecommunications frequencies.

This major league, extremely powerful Verizon/Complete Wireless Antenna Farm, will also negatively impact our property values. With such a WTF so close to our homes, it would make it difficult to rent or sell, and we would have to disclose this information to potential renters or buyers.

As residents in close proximity to this WTF, we will be bombarded with this RF-EMR (700-2360 MHz) in our homes — day and night. Denying our ability to choose the best broadband service without invasive RF-EMR exposures and to protect our loved ones is both wrong and un-American.

Let's stop this ill-advised, major Wireless Telecommunications Facility now.

Our loved ones and neighbors are depending on us to protect their future.

We do not consent to the placement, construction or operation of the 16-antenna WTF Antenna Farm at the Petaluma Creamery.

For more information, please see these websites:
What About the Change.org petition?
Link to Stop the MAJOR Telecommunication Facility at the Petaluma Creamery
This petition was posted on June 17, 2020 by Kelly Barbaro
One month later, the petition has nearly 5,000 signatures
The listed decision-makers are mostly incorrect:

Teresa Barrett, Mayor of Petaluma (yes, she is one decision-maker)
Heather Hines, m-group employee
Brittany Bendix, m-group employee
Justin Shiu, m-group employee

The actual decision-makers are our

Petaluma elected/appointed local officials

, so Teresa Barrett will be a decision-make of the future appeal of the Planning Commission decision (an appeal is very likely)
The listed -mgroup employees are not decision-makers. They are contract planners for the City of Petaluma and report to the City Manager, who is responsible and accountable for the quality of the work performed by these contractors.
m-group employees are significant filters and influencers of the process because they are in charge of writing the staff report and compiling the Planning Commission and City Council packets that prepare our elected/appointed officials for their deliberations.
The packets should reflect the substantial written evidence about this project that was placed in the Cikty of Petaluma public record by any stakeholder. We have to work hard to ensure that all substantial written evidence gets included in that all-important packet. As of July 17, 2020 we have about two weeks left to complete our critically important work to marshall substantial written evidence into the packet. Let's not leave this important work to the end.
A. Those deciding on Aug 11, 2020 will be the City Council-appointed Petaluma Planning Commissioners
Scott Alonso, Planning Commissioner
Heidi Bauer, Planning Commissioner
Blake Hooper, Planning Commissioner
Richard Marzo, Planning Commissioner
Sandi Potter, Planning Commissioner
Patrick Streeter, Planning Commissioner
Those deciding on a future date tbd (and possibly by Sept 1, 2020) will be the elected Petaluma City Council members . . . because the party not agreeing with the Planning Commission vote will appeal the decision to the City Council
Teresa Barrett, Mayor
D'Lynda Fischer, Vice Mayor
Mike Healy, Council Member
Gabe Kearney, Council Member
Dave King, , Council Member
Kevin McDonnell, Council Member
Kathy Miller, Council Member